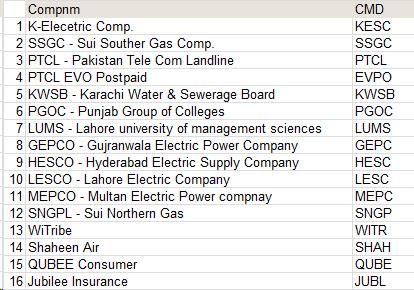 SMS format : <company-code> space <consumer-number on the bill>
If you want to pay K-electric bill then the sms would be like as shown below
KESC 0409928838828
and send it to 8987
---
Goto : www.shaheenair.com and under the Ticket TAB enter your PNR: to get
ATM/Internet Banking Refernce:741254564
Type sms: SHAH 741254564

SMS format: <company-code> space <amt> <consumer-number>
If you want to pay VFONE bill then the sms would be like as shown below
VFON 500 572989383
and send it to 8987
INTER BANK FUND TRANSFERS (IBFT)
To transfer your funds from your Bank to any other member banks listed below.
IBFT space<your 14 digit ATM card>space<To Bank short code>space<To Bank Account Number>space<amount>
and Send to any registered short code 8987
---
For Funds Transfer With in a Bank.
PAYC space<amount> space <beneficiary  last six digits of Atm Card or 14 digit Account number>
REGISTER YOUR EMAIL ADDRESS
You may register your email address by sending following command to 8987
Type :
EMRE  <Your email address>
ACCOUNT STATEMENT IN YOUR EMAIL
You may request your detailed Account Statement directly in your registered Email address by sending the following sms to Sindh Bank  short code 8987
Type :
Email  space <yyyymmdd>

e.g
Email 20120601
Note: The date you enter is the date your Account Statement starts from
BALANCE INQUIRY / MINI STATEMENT AND OTHERS
BALA   For Balance Inquiry
HELP   To get list of sms commands for banking
LFTR   For Last 10 transaction dr/cr
LFTR space <Account-no> If you have more than one account.
MPIN CH space <old-pin>space <new-pin> To change e-Banking Pin-no  (note: do not use zero in start of your Pin-No )
REMOVE  To discontinue sms services ( sms Alerts, Bill payments, Eload , IBFT, Mini Statement )
ECOMMERCE TRANSACTION ACTIVATION (VISA DEBIT CARD)
ECOM space <Card Number> space <A>
Note: The Ecom transactions are only activated for 30 minutes.
INTERNATIONAL TRANSACTION
By default all ATM / Debit Card block for international Cash withdrawals / POS / Ecommerce transactions. Customer may activate his/her Card by Call Center or send below SMS to 8987
For Activation:INT (Space) START (Space) last six digits of card
Eg: INT START 052481
For Deactivation: INT (Space) STOP (Space) last six digits of card
INT STOP 052481
FBRT space <PSID>
Note: PSID can be obtained from FBR website "www.fbr.gov.pk".